Weekly Highlights
Well, among other things that have happened this week, I thought I would talk about some of the good things that went on. Let's see, I'd have to say that within the last seven days my first highlight would have to be last Friday. I had made plans with Briahna to go to her house and have a get-together with some friends from high school before we all headed back to college. I got my stuff together, including some snacks to share with the gang.
I went to the TRAX station that was closest to my house and I got on to make the journey to Salt Lake. It took about 45-50 minutes on the train, but I passed the time by listening to my "Purple Pixie" iPod Shuffle. I absolutely love listening to music while I am on the train or bus. It let's me be in a different time and place, away from anything that bothers me. Not to mention that I can sound-out the din of anything or anybody that is making noises that I don't want to hear. So there I sat just enjoying the ride.
Once I was in Salt Lake, I went to the platform where the Frontrunner boards passengers. I had to get my ticket first because my Ed-pass doesn't currently cover the cost of Frontrunner. I had never been on Frontrunner before. It is a rather recent addition to UTA. It is a really nice commuter train; it has nice large seats and plenty of leg-room. There are two levels to the train so more passengers can fit. I haven't had a chance to see the view from the upper level but I think that it would be a really neat experience.
The Frontrunner is very smooth, it doesn't sway and it isn't a bumpy ride. It only took me about 15 minutes to get to Woods Cross, where Briahna picked me up.
Once in the car with Briahna, we talked and chatted about how our lives were now and what our plans were for the fall. We talked about the young men that we knew who were on their missions or getting ready to go on their missions.
Getting to hang out with my friends from Woods Cross and the general North Salt Lake area is pretty important to me. It is really hard for me to see them since I live about 25 miles away from there and the cost of gas is just obnoxious. Not to mention the fact that I don't have a car. ☺
I arrived at Briahna's house and her mom was kind enough to let me have some of their dinner, since I hadn't eaten. Actually I hadn't thought about it much before I left from home. So, I had Spaghetti with "Farmer John" cheese, a slice of toast and something that I had never thought to have with Spaghetti before - Peeled and sliced cucumbers! I never would have thought that it would be such a refreshing side for marinara pasta! I think it is sort of a way to refresh your taste buds after tasting the pinches and scoops of onion, tomato, basil, and garlic. I will definitely consider adding cucumbers to my next dish of Spaghetti; thanks to Briahna's family!
After waiting for a little while for people to show up, we chatted and talked until we decided that we should get down to business in the sense of watching a movie. We watched something that most of us hadn't seen before. It is one of Kiera Knightly's first big mov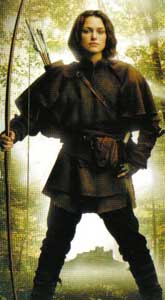 ies,
The Princess of Thieves
. It was a very good movie, it was thrilling, it was suspenseful, there was a little bit of romance but it was a clean flick! I will do a Media Review on it if I get a chance to watch it again. This worked for everyone there too, since there was only one guy, we didn't really want to subject him to chick-flicks, even though he is practically immune to them by now.
We watched the movie, at popcorn, M&M's, Chex Mix and had drinks. It was really fun to see a few friends from school. Especially Briahna and Kaylee. I saw BJ, Stephanie and her little sister, Rachel, (BJ was the guy I mentioned earlier.) BJ and Steph are so cute together, you can just tell how much they care about each other and how close they are to each other. I am happy for them, that they are lucky enough to have found each other... Steph and BJ graduated a year ahead of me and Briahna but we still knew them pretty well.
It just boggles me that I didn't know Briahna until the end of our Junior year. When you see us together and if you were to listen to our conversations you wouldn't think that we had only known each other for a little over 2 years. We have sure had some times to bond. I can think of a few, such as
NHS
and the music trips to Cali.
After the movie was over, BJ, Steph, and Rachel headed home but me and Briahna stayed up to
watch
27 Dresses
in her room, on her laptop. Katherine Heigl was the star of the show, and I liked her so much better in this movie, as compared to the role that she plays in Grey's Anatomy...
And may I just say that James Marsden does a spectacular job in this movie? He just seems to play himself... he isn't Cyclops, he isn't Corny Collins and he isn't Prince Edward. *Sigh* I think that with a few word edits here and there that
27 Dresses
would be a spectacular movie!
Even after the movie was over, Briahna and I stayed up, having girl-talk. We probably got to bed around 2 am only to wake around 7:45 am and have yummy French Toast. Again, I give my thanks to Briahna's mother for a scrumptious breakfast!
After breakfast it was home to change and off to work. But I hope that I can definately see my High School friends again soon - and more of them too!!!
Well, that's all for right now,
Blogging Later,
~Holly Elizabeth
AKA
~~Holls